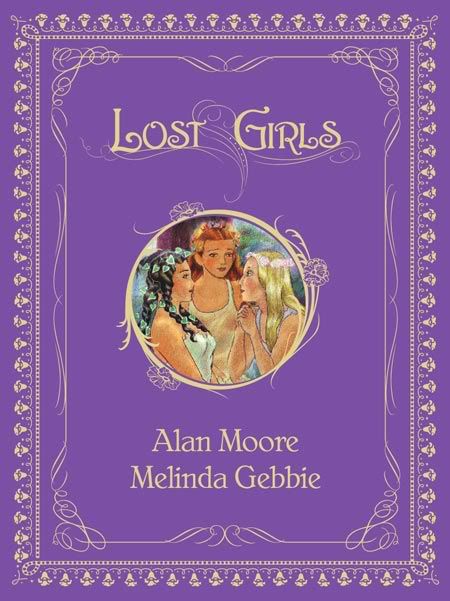 LOST GIRLS HC: Too racy to display on your bookshelf yet too big to fit under your mattress, LOST GIRLS represents a fifteen-year journey to make pornography respectable once again. Undisputed comics genius Alan Moore and artist Melinda Gebbie began this story in the pages of Stephen Bissette's long-defunct anthology TABOO, eventually continuing in periodical form before Top Shelf struck a deal to publish the completed story in three hardcover, slipcased volumes. That was about three years back, and now Moore's most arguably ambitious project since FROM HELL is finally finished. Obviously, a major new Alan Moore work is always cause for celebration, as is any major new release from Atlanta-based prestige publisher Top Shelf. However, Moore and Gebbie's complex, multi-layered erotica has already stirred up controversy for its depiction of virtually every sex act you can think of (and probably a couple you've never even imagined). Also, the stigma of purchasing such an unashamedly pornographic publication—not to mention the hefty $75 US price tag—has left many potential buyers wary. So, is it worth it?

C'mon, we're talking about ALAN MOORE here. Was there ever any doubt, really?

LOST GIRLS takes place in 1914, at the Hotel Himmelgarten on the Austrian border. Among the various guests are three very different women, who inevitably cross paths with one another. Alice is an older woman with a past marred by abuse and mental illness. Dorothy is a brash young American girl fleeing from a scandal back home. Wendy is a timid housewife, nicknamed "Old Thing" by her passionless husband. The names of these women are no coincidence; they represent grown-up versions of the heroines of Lewis Carroll's "Alice's Adventures Through The Looking Glass", L. Frank Baum's "The Wizard of Oz", and J.M. Barrie's "Peter Pan". As the three women share reminiscences and shed their inhibitions, their childhood adventures through fantasy worlds are re-presented as symbolic representations of their own individual sexual awakenings. While the three women engage in erotic escapades with each other and with the other patrons of the hotel, the ugly spectre of the first World War looms on the horizon.

The nature of art demands that borders be pushed down on occasion, and Moore as usual leads the charge in the comic book world. His intention with LOST GIRLS is to reinvent erotic fiction in the comic format with a more literary intent—that is, he and Gebbie certainly want to titillate their readers, but hopefully leave them with something to think about afterwards. The central idea behind their work here is that inhibitions should be cast aside not merely for the sake of self-gratification, but also so that we may learn about ourselves in the process. As the three protagonists of LOST GIRLS are laid bare, literally and figuratively, over the course of the three volumes, each one is forced to confront some hidden truth within themselves…thus achieving physical and emotional catharsis. The creators also use the wartime setting to ask questions about humanity's passion for conflict when there are much less destructive pursuits we could all be concerning ourselves with—the series was began around the time of one Gulf War and has finished while another one continues, and it ends with a startling and graphic image that entwines the imagery of both sex and war.

All of Alan Moore's usual skills are on full display here, from his innovative storytelling angles (like the first and last chapters, seen entirely from the perspective of Alice's mirror) to his penchant for skewed humour (Dorothy becomes entangled with a young soldier who is, appropriately enough, a shoe fetishist). The writer's command of overlapping narratives and his rock-solid mixture of dialogue and imagery remind us once again why he is the most acclaimed writer this industry has ever seen. As for Melinda Gebbie's artwork—her vivid, curiously innocent-looking artwork, while not usually to my own personal tastes, is perfect for what is essentially the X-rated continuation of several childrens' fables…the bedtime story to end all bedtime stories, if you will.

Much noise has already been made, even prior to the book's release, about the graphic depiction of underage sex and incest in LOST GIRLS. These passages are most definitely shocking in their presentation, but again, this is a book designed to challenge our sensibilities and our notions of sexuality. Before anyone organizes a book-burning, let's all just take a breath and remember that no actual, living, breathing children were in any way harmed or exploited in the making of LOST GIRLS. Moore even comments on his own usage of this imagery in a later chapter, when the hotel owner hosts a wild orgy during the outbreak of the war; after reading from a book describing an incestuous family that would make the comedians featured in the movie THE ARISTOCRATS blush, he remarks that, if real, such acts of incest would indeed be monstrous, but that this is only the idea of incest. "Fiction and fact; only madmen and magistrates cannot tell the difference", he concludes. Much like the litany of filthy jokes in the aforementioned film, Moore skirts with moral outrage in order to challenge his audience's ideas of decency. Make no mistake, LOST GIRLS isn't for everyone—hell, it's almost certainly not for most people—but it's unlike anything ever committed to the medium of comics before, and we'll most likely never see anything like it again.

THE TOY BOX #1: Much in the vein of other Alias Entertainment family fare like LIONS, TIGERS, AND BEARS comes this tale of a magical world of living toys inside an old wooden chest, and the father-son duo who end up trapped inside it. Writer Kevin Grievoux and artist Javier Giangiacomo have a good idea, although too much time is maybe spent in the "real world" segments to hold the attention spans of the key demographic here. Still, the concept is solid, and the strained relationship between the father and son is well handled and relatable in a kid-friendly way. This will probably make a good trade paperback in the future, preferably when it's not polybagged with an excerpt from a novel, SAINT, that's not intended for kids. Y'know, like this debut issue was for some reason?

DETECTIVE COMICS #823: Some of Poison Ivy's victims come back for ironic revenge, forcing her to seek help from Batman and Robin. Continuing the string of less-than-stellar fill-in artists after J.H. Williams' one-off two issues back, Top Cow protégé Joe Benitez steps in to cram a whole lot of cheesecake in the readership's collective craw. I know it's kind of an old-fashioned comic booky thing, but it's alternately stupid and hilarious when a horrible monster decides to give itself a codename—"Call us Harvest!"—and two pages later, Robin is already referring to it by said codename. Paul Dini's done-in-one scripts are still better than most Bat-tales of recent years, but the floating art teams are killing this one for me. As Poison Ivy herself might say, the bloom is off the rose.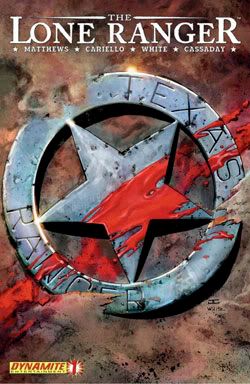 THE LONE RANGER #1: It's starting to look like maybe cowboys are destined to be the new pirates/zombies/monkeys soon, but if it means we keep getting cool western titles like LOVELESS, DUSTY STARR, and Dynamite Entertainment's LONE RANGER revamp, I'll be hard pressed to complain about it. Brett Matthews, co-writer of the recent SERENITY miniseries, scripts this tale of a Texas Ranger destined to be the latest incarnation of the masked hero after the murder of his brother and father. The script is strong, and the art by Sergio Cariello recalls the work of gritty greats like Joe Kubert and John Buscema. Dynamite has famously mishandled many of its other properties (like the onslaught of frantically-shipped RED SONJA titles, for instance), but it looks like they might have gotten this one right.

SPIDER-MAN: BLACK & BLUE & READ ALL OVER: And now, a Very Special Spider-Man story. I mean that in the worst possible way, in case you're wondering. In this unnecessary one-shot, ol' Webhead decides to give the Daily Bugle an exclusive by first penning a story about why he became Spider-Man, and promising to reveal his secret identity on their front steps the next day. However, once his fellow New Yorkers read his stirring story…well, let's just say the Lifetime Network would have dismissed this as being way too cheesy. Also, it seems a little silly to release a story like this so shortly after Spidey actually did reveal his identity in CIVIL WAR—it kinda robs the story of any suspense, y'know? Anyhow, on the plus side, it has a really nice cover by Jay Anacleto and a backup reprint of that classic Lee/Ditko issue where Doc Ock unmasks Spider-Man in front of JJJ, Betty Brant, and the cops. You know, the one where they fight in that artist's studio with all the crazy giant sculptures at the end? Now THAT'S how you do a "Spider-Man…Unmasked!" story.




AMERICAN SPLENDOR #1: Harvey Pekar's acclaimed autobiographical series moves over to Vertigo, but keeps it real by staying black and white. With the help of artistic collaborators Ty Templeton, Hilary Barta, Greg Budgett & Gary Dumm, and Dean Haspiel (artist on last year's Pekar-penned graphic novel THE QUITTER), the famed curmudgeon/ex-Letterman staple relates stories of his parents' struggles with Alzheimer's, prickly flight attendants, and the headaches of dealing with a teenaged foster daughter. As usual, Pekar's accounts of his day-to-day life are not all that extraordinary in and of themselves, but it's all in the delivery—you can almost hear his raspy voice coming out of the pages.

MYSTERY IN SPACE #1: Cosmic go-to guy Jim Starlin resurrects DC's old-school sci-fi anthology title (which gave us the classic Gardner Fox ADAM STRANGE strips in the sixties), this time starring Captain Comet. The space-faring hero finds himself murdered and mysteriously resurrected, giving him a chance to solve his own homicide. Newcomer Shane Davis (BATMAN ANNUAL #25) provides slick visuals, but the story is bogged down by loads of expository narration to cover up the fact that not much actually happens. Also, in an oddly self-promoting move, Starlin uses this new series as a chance to revisit his older storylines—the lead story is set at Hardcore Station, from the Starlin written-and-drawn mini of the same name from a few years back, and the backup feature stars The Weird, from the Berni Wrightson-pencilled Starlin miniseries from the 1980s. I'm not sure there was a lot of demand for the return of either concept, but here we are.

LOCAL #6: This issue, Megan winds up rooming with an obsessive hospital employee in Brooklyn. Her latest attempt at stability is threatened not only by her roomie's anal-retentive attitude, but also by her own habitual need to stay on the move. I'll be curious to see how Brian Wood's latest twelve-part opus holds together as a finished product, but the late shipping continues to render each individual chapter a bit less than satisfying. Still, Wood writes natural-sounding twentysomething dialogue better than most writers in the business, and Ryan Kelly's artwork looked especially excellent this time around.




THE SURROGATES TPB: Sure to be overshadowed by the release of the other big Top Shelf book this week (see the above LOST GIRLS review) is the collected edition of one of my favourite miniseries from last year. Top Shelf's stab at a mainstream book, written by Robert Venditti and drawn by Brett Weldele, mixes BLADE RUNNER and SE7EN to create a gritty, futuristic police procedural/social commentary. Decades from now, most of humanity lives through idealized robotic duplicates known as "Surrogates"…that is, until a mysterious assailant known only as Steeplejack begins destroying them. Pages and pages of bonus features and pin-ups accompany the five chapters of this excellent series, all under a new cover by Weldele. If you missed this one in periodical form, you officially have no excuse not to read it now.